The Odyssey Expedition spanned 1,492 days and over 220 countries and territories… so much material it's far too much to cram into just one book!
Man of The World tells the story of the first year of The Odyssey Expedition – the first journey to every country in the world without flying.
It begins with preparations for my expedition and saying goodbye to my long-term girlfriend Mandy at Heathrow Airport, covers all of the highs and lows, trials and tribulations, moments of sadness, hilarity, despair and triumph along the way through every single country in South America, The Caribbean, Central and North America, Europe, West Africa, Central Africa, Southern Africa and East Africa.
Along the way I watch a space shuttle blast off from Cape Canaveral, I'm arrested on the Russian border, I take a leaky wooden canoe over 600km to Cape Verde only to be thrown in jail for a week upon arrival.
I brave the Mad Max-esque highways of Nigeria, join a Bwiti tribe in Gabon, get banged up abroad (again!) in Congo and enjoy a pint in the highest pub in Africa.
The story culminates in my mad dash from Comoros to Egypt via Tanzania, Rwanda, Burundi, Uganda, Kenya, Ethiopia, Djibouti, Somalia and Saudi Arabia in less than two weeks in order to meet Mandy at the pyramids for midnight on New Year.
Of course Man of the World tells the basic story of how I got from A to B, but the main emphasis is laid squarely on the fun stuff – interesting anecdotes, humorous asides, facts about places you never knew existed and the lowdown on some of the intriguing people I met and the crazy things that happened along the way.
The tone will be welcoming and inclusive, light and conversational, and I'll be colouring even my darkest moments with a wicked sense of humour to create an entertaining, powerful, compelling and utterly unique snapshot of world in which we live.
GET 'EM WHILE THEY'RE HOT!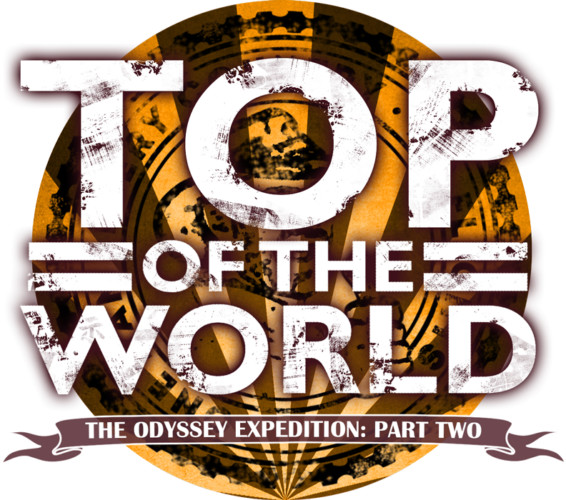 Top of the World begins on the morning of January 1st, 2010. I was in Egypt with my partner Mandy – the very place we first met ten years earlier. Mandy had flown halfway around the world to meet me at the pyramids for New Year. I had spent the last year travelling from Uruguay without flying – 133 countries. A brand new Guinness World Record™.
She wanted me to come home with her to Australia.
I was left with an agonising decision – whether to end the journey here and go home with my girlfriend of 8 years… or continue on alone to every country in Asia and the Pacific.
Let's not kid ourselves: this would be no walk in the park. The remaining 67 countries included Afghanistan, Libya, Eritrea, Syria, Iran, Iraq and North Korea. The journey would take me through war zones, demilitarised zones, over pirate waters and the highest mountain range in the world. All with just a backpack and a winning smile to protect me.
And that's before I get to the 12 Pacific Island nations – dots of land scattered in an endless ocean, thousands of miles between them. I didn't own a boat. I had no millionaire buddies with a yacht going spare. My masterplan of how to get to every country without flying ran out of steam at Papua New Guinea.
Not only that, it would only take one country out of the remaining 67 to say no, deny me a visa, turn my boat back at the port and my adventure would be over. The border between China and Nepal is notorious for closing on a whim.
I'd have wasted thousands of dollars on a folly.
I would be travelling alone, with no professional support, on a shoestring budget, tilting at windmills. What if Mandy didn't want to wait for me? She had already waited a year. I made a solemn promise to see her again by Christmas no matter what.
I had less than 12 months to achieve the impossible. The clock was ticking…
Let's finish this.
It was September 2011 before I returned to Papua New Guinea to pick up from where I had left off and complete The Odyssey Expedition once and for all.
At the time I still had no clear idea of how I was going to get to every country in the Pacific, let alone The Maldives and The Seychelles – two island nations sitting slap bang in the middle of the 'High Risk Area' for Somali pirates. Not only that, but South Sudan had just become the world's newest nation – I would have to return to Africa in order to tick it off the list.
The final part of The Odyssey Expedition would take me from the International Date Line all the way to the Greenwich Meridian via The Marshall Islands, Fiji, New Zealand, Nauru, Palau, Hong Kong, Singapore, Sri Lanka, India, The Maldives, The Seychelles, South Africa, South Sudan and Egypt.
It turns out I had saved the best till last.
Along the way I discovered that if you're patient and you trust in yourself there's no door you cannot open, no mountain you cannot climb and no country that lies beyond your reach.
I spent my whole adult life trying to convince people that it was possible to visit every country in the world without flying. By the end of my odyssey, I had proved it beyond all reasonable doubt: travelling alone, on a shoestring budget and with no professional support. What's more… I did it in style.
From the Melbourne Cup to a presidential suite in the Colombo Hilton, a luxury cabin on a Princess cruise ship to quaffing a Singapore Sling at Raffles' famous Long Bar, from the bright lights of Macau to the colourful costumes of New Guinea, from swimming with a million stingless jellyfish in Palau to the very top of the Great Pyramid of Giza.
The final book of The Odyssey Trilogy, End of The World doesn't just tell the story about how I got from A to Z, it's a life-affirming celebration of the endless possibilities presented by taking the road less travelled, a riposte to all the naysayers who believe the human race is going to hell in a handcart.
The Odyssey Expedition is also featured in the following books…