"Ahh…" I thought as I reached Egypt, "it's all downhill from here…" HOW WRONG I WAS!!
The Middle East turned out to be an even tougher nut to crack than Africa – it took me eight months to go to just get to the next twenty-two countries. But as always, if it wasn't for the good'uns I've met on the road that number would be a lot lower. I doff my cap to the following people…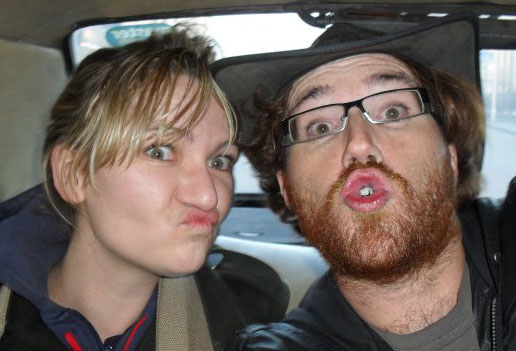 Kendra, Egypt
I met Kendra through Jesse from Canada who's been following my progress around the world from afar. I stayed at her place in Egypt after Mandy left. We stayed up all night putting the Star Wars prequels to rights and ordering random takeaway. She was with me when I met Eric, the hilarious Frenchman who thought that all the world's ill were cause by 'ze Anglo-Saxons' and that dolphins have no poetry, because 'zey are fiiiiish'. Such a lovely picture, I just had to share it with you. Kendra put me in touch with…
Londa, Iraq
Well, you don't have to be half past barmy to live in Iraq, but it helps. A native American, Londa loves her sheesha and is the CouchSurf queen of Sulaymania. The fact that she put up with all my drunken nonsense just goes to show how much of a good'un she is!
Sam and Jenny, Iraq
Oh dear… I'm in for it now. Sam (Spanish Lebanese) and Jenny (Filipino) are Londa's neighbours and the most crazy/wonderful couple I've met on the road. Sam's inexhaustible energy his indefatigable generosity and most of all THAT HANDLEBAR MOUSTACHE mark him out as one cool cat. He plied me with alcohol, took me out for dinner and takes the 'have a good time all the time' philosophy as seriously as I do. The best bit of my trip to Iraq was Sam and I blasting out an impromptu rendition of Louis Armstrong's What A Wonderful World at 2am to the delight of his neighbours I'm sure. Ooooooooh yeah…
Tara, Iraq
Originally from Ohio, Tara is another of Londa's neighbours. Tara loved my drunken Jesus jokes so much that she had me thrown out into the snow. We laughed about it afterwards of course…
Sylvan, Cyprus
A fellow wayfarer, Sylvan had been held up for days in the Turkish port waiting for the ferry to Cyprus. We got there in the end, though!
Dja, Tunisia
Dja was my CS host in Tunisia and what a top chap he was. Helping me out with my transport to Libya and Algeria, supplying me with cold beers and stopping me from being arrested when I ran away from that policeman, he was top, top and top again.
Claire, Tunisia
Dja's American girlfriend, Claire had worked in the Peace Corps before moving to Tunisia. She likes to party and didn't give me a hard time after I flooded her flat. We conquered ancient Carthage together. Just like the Romans.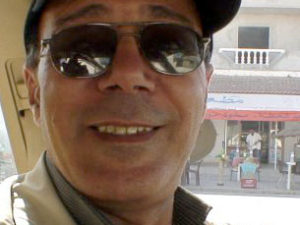 Shukri, Libya
Shukri was my guide for my day in Libya. You have to have a guide in case you steal things (as us backpacking westerners often do), but Shukri was a real top bloke – chatting with me about the politics and history of the region – it was a real eye-opener.
Atheer, Turkey
I met Atheer at the backpackers in Istanbul. Possibly the only Israeli Palestinian atheist in the world, we bonded instantly – the one guy who likes to bang on about politics and religion even more than me! We had a good few nights out on the town and with any luck we'll see each other again once this is all over.
Rati, Georgia
Rati is one of my favourite people I've met through CouchSurfing so far. He totally looked after me in Tbilisi, waiting up until I arrived at 3am, taking me out for food and booze, helping me with my visa for Azerbaijan and – best of all – painting The Odyssey logo on his bedroom wall!!
Nick, Azerbaijan
I stayed with Nick for three nights in Azerbaijan. Originally from Australia, he actually went to the same university as Mandy's sister, it being a small world and all. He works for an evil oil company, but we won't hold that against him as he was tremendously accommodating even for a ginger stray like myself.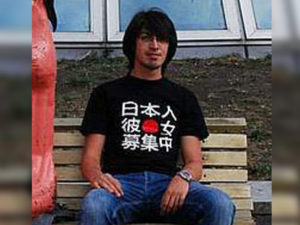 Jamil, Azerbaijan
After meeting on CouchSurfing.org, Jamil helped me out even before I got to Azerbaijan, writing me a letter of invitation so I could get a visa. We met up when I got there, celebrated St. Paddy's day together, he supplied me with some authentic Azeri tucker and introduced me to the joy of Trolololololololololololo.
Fred, Uzbekistan
My CS host in Tashkent, Fred is originally from La Rochelle in France. She gave me a roof over my head and introduced me to a stack of her wonderful and outrageous friends…
The Guys, Tashkent
Uzbek people are truly the friendliest in the world. With minutes of meeting this lot, I had been invited to everybody's house for dinner and to meet their mums. Nurbek and Shamshod, I will take you up on your offer next time I'm in Uzbekistan!
Atabek, Uzbekistan
When I say that people from Uzbekistan are incredibly friendly, they are also incredibly helpful. I met Atabek here outside the Turkmenistan Embassy. I can't list here all the wonderful things he did to help me, but they included driving me around the city, helping me change my money, taking me out for 'plov' and making it so I got my Turkmenistan visa in one week instead of three. HATS OFF TO YOU, SIR!!
Aima, Kyrgyzstan
I ran into Aima on the streets of Bishkek, the capital of Kyrgyzstan. She wanted to practice her English and I needed a guide. The next day she helped me find a present for Mandy and then let me kip at her university digs. The spirit of generosity in Central Asia knocks me for six.
Nazik, Kyrgyzstan
Nazik was my CS contact in Bishkek. I stayed with her and her mum and they made me a ton of incredibly yummy Kyrgyz food. Huzzah!
Rafael, Uzbekistan
I love it when CouchSurfing puts me in touch with a real top bloke, and they don't come much topper than Rafael. I stayed at his place for three nights over my second long weekend in Tashkent.
Cloe and Younne, Uzbekistan
This impossibly sweet couple are on a two year journey around the world. They're trying to get from their home in France to Australia without flying (I'm not the only one!). They were CouchSurfing at Rafa's place when I was there before being deported for not registering at a hotel. D'oh!
Alla and Oybek, Uzbekistan
Rafael's mate Oybek is the James Bond of Central Asia – swarve, sophisicated and his girlfriend is a total fox. We partied the night away at the VM bar to some karaoke covers of British Rock classics. No Day-Tripper, though. Humph.
Seyed and Son, Iran
Seyed is from Afghanistan and I met him on my way to Mashhad after the police pulled me out of my taxi and demanded to watch all my video tapes. He let me share his taxi, took me to the train station, sorted me out with a ticket and changed my US dollars into Iranian wodge. Result!
Arash and Arsi, Iran
Iran has gone straight in to my Top Ten countries of the world and these two guys played no small role in that accolade. I met Arash in the Indian embassy while I was trying to arrange a visa and he invited me back to his place for music, wine and good times. Respect!
Hossein and Grandmother, Iran
The other reason that Iran is now in my Top Ten countries of the world is this guy here. I was on the overnight coach from Shiraz to Khorramshahr when the dear old lady in front of me who didn't speak a word of English passed me her mobile phone. The guy on the other end of the line explained that the lady was his grandmother and that she was concerned that the bus got in at 5am and I'd have nobody to meet me. He invited me for breakfast at Granny's house (how could I refuse?) and sure enough, Hossein picked me up the next morning and we shared the most scrummy breakfast in the world in Granny's flat. After breakfast he drove me down to the port and made sure I made it safely onto the ferry to Kuwait. ODYSSEY HEROES. Exactly what it says on the tin.
Mike, Kuwait
My first CouchSurf host in Kuwait, I stayed with Mike for a few days while I ran around the city like a crazed badger looking for a way out. He introduced me to…
Haitham, Kuwait
Haitham is the king of the Kuwaiti CouchSurfers – even though he lives in Preston these days! With his trademark pipe and his love of good times we totally pwned Kuwait City together. He took me around the shipping agencies, treated me to lunch, took us all out to his family farm in northern Kuwait. It was a total pleasure.
Dominik, Kuwait
Dominik was my second CS host in Kuwait. Hailing from Germany, I've got a sneaking suspicion he won't last too long in Kuwait before the non-alcoholic beer fails to cut the mustard!
Abbas, Kuwait
This guy runs Tip-Top computers in Kuwait City. Originally from Jaipur in India, he took me under his wing when my laptop refused to boot up, not only getting his guys to fix it for free, but buying me lunch and driving me over to the aquarium. If I've inspired him to go see the world then my work here is done!
CouchSurfers United, Kuwait
I took this pic in the desert on the way to Haitham's family farm. Everyone on the photo is a CouchSurfer. If you are going backpacking anywhere in the world, I suggest you head over to CouchSurfing.org and sign up!