Sat 20.10.12:
Friday was spent at sea, familiarising myself with the ship. Good news: the bars are open until 2am. Bad news: I don't have enough money to drink. I've got about £400 left to get me from here to Liverpool, through at least 15 countries. Can it be done? Probably not, but that why God invented credit-cards eh?
The ship is lovely, the food is tasty and plentiful (although I'm not eating much these days) and the staff are brilliant. Of course there's a certain amount of loneliness that comes of being the only person on the ship on my own, but I'm quite an outgoing going chap, so not to worry. In any case, gives me some more time to work on my scripts (and that taster, Mike ;-)).
So Saturday I woke with the lark to find a city floating past my porthole. This was a trifle bizarre, but only because I've never been to Male' before. Male', the capital of The Maldives (apostrophe intentional), is one of a ring of islands encircling North Male' atoll. The Maldives is made up of 26 of these gigantic atolls, which between them encompass 1,192 islands (more or less depending on the tide). But, more importantly……..
I MADE IT!!!
Oh my Gods, there's an outside chance I might just finish this yet……….
Male' isn't the tropical beach resort destination that you think of when you think Maldives. It's a rectangle-shaped city, sitting on the water, every last inch taken up with buildings. There is a beach, but it's an artificial one… they had to import the sand. If you want to see those resorts you see in the holiday brochures, you need to pay a man in a boat to take you there. But as I'm strenuously attempting to send less than zero on this cruise, I was content to do walk a lap of the city: a walk of less than 3km.
The highest point of Male' is just two metres above sea-level, which makes Male', and The Maldives in general, the second most endangered country in the world from climate change after Tuvalu http://theodysseyexpedition.com/category/tuvalu. But while Tuvalu only has around 10,000 inhabitants, The Maldives has over 400,000. There's going to be no country willing to grant 400,000 people asylum when the waters rise. And, believe me, they will rise. They'll rise because every peer-reviewed scientific paper in the world on the matter of climate change says it will. It will for the same reason that we can predict the next appearance of Halley's Comet, the next transit of Venus, the same reason that the Curiously Rover landed safely on Mars and Felix Baumgartner landed safely from his skydive from the edge of space. The same reason that Peter Higgs predicted the existence of a Boson fifty years ago, which was only recently proven by the largest and most complicated scientific apparatus in the solar system, the same reason that GPS satellites suffer from the minute differences in time predicted by Einstein's Theory of Relativity over 100 years ago and for the same reason that new research into the genome of all living things has proven Charlie Darwin right, right and right again.
BECAUSE SCIENCE, BITCHES!!
If you choose to believe tabloid newspapers, politicians, Fox News and oil companies in regard to the matter of climate change, you're a bloody fool. A reckless fool. That is all.
There wasn't a lot to see on Male'. The Sultan's palace was all but destroyed in 1968, with only one small outbuilding left standing. Something else you need to know about the city of Male': there is no alcohol. Like, none. Not even in your hotel minibar or anything. But not to worry, I had a SECRET PLAN.
Last July when I was tramping my way around Sri Lanka, I went for a night out with the Colombo massive, a night that ended in me taking a rather inexplicable trip to Galle with a rather fetching Croatian girl called Anita. This kind of thing happens a lot in my life, it's nothing to worry about.
As luck would have it, Anita's latest assignment dropped her, just one week ago, in the Maldives. Hell yeah! So at 6pm I trotted over to the Beehiva Nalahiya Hotel to meet with Anita. She had a hotel apartment (seriously – I never knew these things even EXISTED before Colombo – isn't that hilarious?) with her colleague Augustine who hailed from France. And so us Euro-types set off in search of a boozy night out. Luckily for us, the airport of The Maldives is not situated on Male' island, it's on the nearby Hulhule island of. Ferries make the 15 minute journey all night and there's a hotel there. With a bar. And in the bar you will find (oh yes) sweet, life affirming beer. The cause of, and solution to, all of life's problems (© H. Simpson 1997).
Dunno why, but beer tastes better when it's (kinda) illicit. In other news, my Maldives guidebook needs updating: it says that the president is still Maumoon Abdul Gayoom, the guy who's been in charge since 1978 and doesn't take kindly to criticism. Like Russelll Crowe, if he was in charge of a country and a possessed a specially sharpened mobile phone. But in the last couple of years there have been developments. In 2008, the rather tyrannical Gayoom lost his position to a guy called Mohamed Nasheed http://en.wikipedia.org/wiki/Mohamed_Nasheed, 'the Mandela of The Maldives', a nice guy (educated at John Moores Uni in Liverpool, no less) who was pretty much forced to resign at gunpoint last February and was succeeded by Mohammed Waheed Hassan, his vice-president… DON'T YOU JUST *LOVE* AFRICAN-INDIAN-MIDEAST politics?? A shining example to us all.
Well, at least Hassan is promising a *real* election come July next year. If it happens, it'll be The Maldives' first free and fair election since independence from Britain in 1968.
But I have an interesting fact about the Maldives: it's one of the few Islamic nations in the world that allows Israeli citizens to visit. And speaking of The Maldives as a Muslim nation… you do realise that today I broke a brand new world record…?
I'm now the first person since Ibn Battuta in the 1300s to visit every Islamic nation on Earth without flying. And he never went to Brunei! So I win!!
If you've never heard of the great Moorish traveller Ibn Battuta, you should really look him up – his memoirs are hilarious. When he came to the Maldives in 1343, he married three different women and then had to flee the country – never to return – when it transpired he couldn't afford the dowries. He's the Marco Polo of the Arab World and – I have to say, a little more honest about his experiences than Mr. Mint-With-The-Hole was.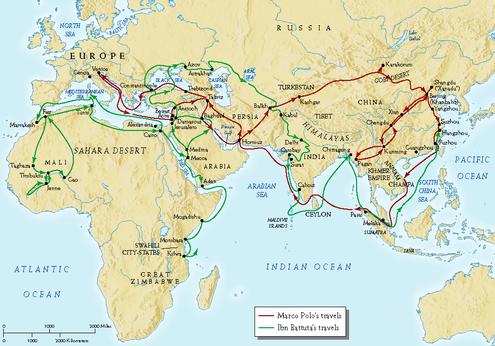 And so on into the night we put the world to rights. Saturday night is the equivalent of Sunday night here, and everyone – including Anita and Augustine – had work in morning. Thinking about it, so did I.
I've still got a shed load of work to do in order to get me to South Sudan and then back home before Christmas. Two of the nightmare visas – Mozambique and North Sudan – have been left in the capable hands of my top mate Lindsey in London. There's still a zillion things to do before you see me back in the UK. I just hope to hell I get there before Christmas, I have fish to fry.
The following morning I was up with the lark (for some reason) and frantically updating this site (TWO NATIONS LEFT TO GO!!!) for the first time since June. I said my tatty-byes to the gorgeous Anita, who I will no doubt see again in some far-off places, and returned to the ship. We set sail at 1pm, set sail for the TWO HUNDREDTH COUNTRY of The Odyssey Expedition… The Seychelles.
The end is in sight, dear reader. 199 down, 2 to go. BRING IT.